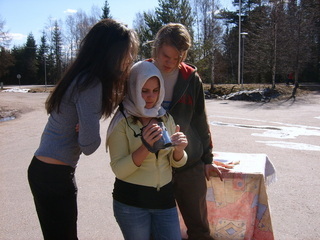 On Saturday, we played a lot of games in group, like the "Kani" game and the animal game. We did some improvisations. We also learned each others languages with little dialogues, and we talked about the differences between our cultures. We had lots of fun!

On Sunday, we started with brainstorming for films, and we prepared 2 films in two groups then we edited them, so they're ready to be shown in the party on Tuesday. We also had fun this day.

Am Samstag haben wir viele Spielen in Gruppen gespielt, wie das "Kani" Spiel. Wir machte eine Improvisation. Durch kleine Dialoge haben wir ein bisschen was von den anderen sprachen gelernt und tauschten uns über die Unterschiede unserer Kulturen aus. Wir hatten viel Spass!

Am Sonntag, starteten wir mit einem Brainstorming für Filme und machten 2 Filme in 2 Gruppen und bearbeiteten diese dann. Jetzt sind sie fertig für die Party am Dienstag. Auch hier hatten wir viel Spass.